About Us
Six decades of Arizona construction excellence
Quality Construction
We use the latest standards performed by trusted trades.
Competitive Pricing
Your project is sent to at least three different trades that have been personally vetted by us. We partner with trades that have proven themselves.
Open Book
You'll know our profit. We don't hide anything.
Great Customer Service
We return calls and emails very quickly. We are honest and always tell you the total truth of every situation that we encounter.

High Quality Construction
Whether we're involved from the beginning of planning, value engineering, budgeting on a negotiated basis or competitive bidding a project, Spurr Construction strives to provide high quality construction on time and within budget.
Dan Spurr
Owner
After a tour of duty with the United States Army, Dan began learning the business from his father. Dan works closely with the owner and architect on every project, including value engineering and final cost estimating from conception to completion.
Sean Spurr
Estimating & Project Supervisor
Sean has 25 years of experience. He estimates and provides supervision for all work performed. He has an excellent ability to detect problems during construction before they occur and find workable solutions.
Tom Maurer
Site Superintendent
Tom has 42 years of experience managing projects of all types and sizes up to $32 million, including power and water treatment plants, Federal & VA projects, hospitality, educational, and office developments. He has a construction management degree from ASU and is certified OSHA 40, First Aid, M Dust CP.
Marilyn Spurr
Accounting
Marilyn is in charge of all accounts payable and receivable, draw requests, lien releases, insurance certificates, contract preparation, close-out manuals, and other miscellaneous office duties.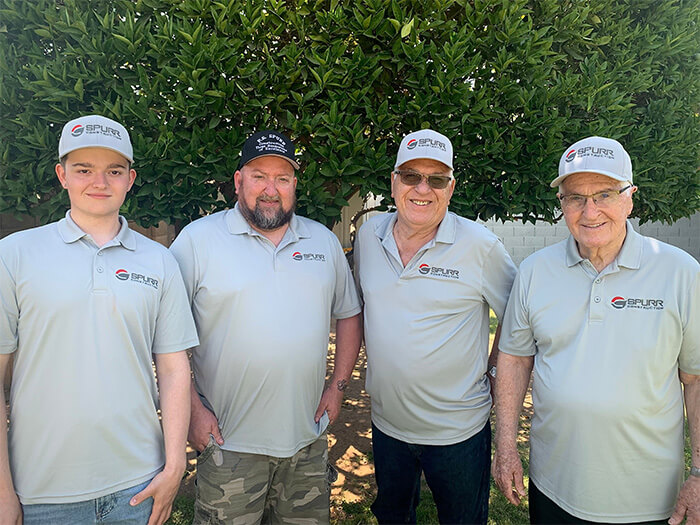 Four Generations of Spurrs
John Hurley
Site Superintendent
John Hurley has over 42 years of experience in the construction industry. He has held positions in major firms, including chief estimator, operations manager, project manager, and superintendent. Past commercial projects have included: churches, hotels, retail stores, medical, automotive, public works, warehouses, power plants, and military projects.